HAUX Diving Pressure Chambers
Innovation, Experience, Quality
Diving organizations – be they professional commercial divers, research institutions, police, fire departments, rescue workers, military, diving schools or diving bases – find their optimal chamber systems in the wide range of the HAUX product program. For example:
Transportable one and two-person pressure chambers HAUX-TRANSSTAR, HAUX-MEDICOM and HAUX-MEDISTAR
Mobile units HAUX-MEDISTAR & HAUX-MEDILOCK
Stationary units HAUX-STARCOM / HAUX-ECOSTAR / HAUX-SPACESTAR
Diving pressure chambers can in principle be used as mobile or stationary units, installed within buildings, containers, ships, trucks or trailers.
HAUX-STARCOM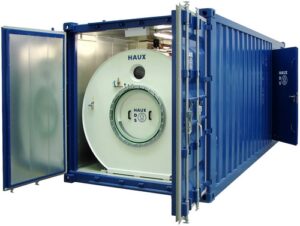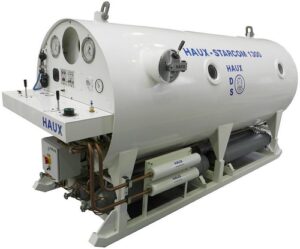 Thanks to its plane-wall design, the HAUX-STARCOM offers maximum inner space for the occupants with minimum outer dimensions. For this reason this chamber system is especially suited for containerization or installation on ships, trucks or trailers with limited space. For optimal visual contact with the chamber occupants, the control station is mounted directly at the front of the chamber with an integrated observation window.
Special features of the HAUX-STARCOM Series are:
Working overpressure from 5 up to 50 bar
Available chamber diameters from 900 to 2500 mm
Space-saving flat wall technology (for the use of higher pressures or for weight restrictions also available with curved floors)
Materials: Ferritic steel, stainless steel (Niro) or high-strength sea water-proof aluminium alloy
Control station either front or side-mounted for ergonomic, simple and safe operation
As options we offer a wide range of system assemblies, for example:
HAUX-SPRAY-FOG fire-fighting system
Computer-controlled HAUX-DECOMAT 4.0 and HAUX-DECOSUPPORT
Air conditioning system HAUX-HEATMASTER/HAUX-COOLMASTER
Additional compressed gas storage in special space-saving assembly under or on top of the STARCOM
Connecting flange for pressure-tight docking with diver transport chambers, for example DIN/NATO-STANAG bayonet flange
Depending on availability we also offer rentals of containerized HAUX-STARCOM 2000/5,5 diver treatment chambers.
HAUX-SPACE-STAR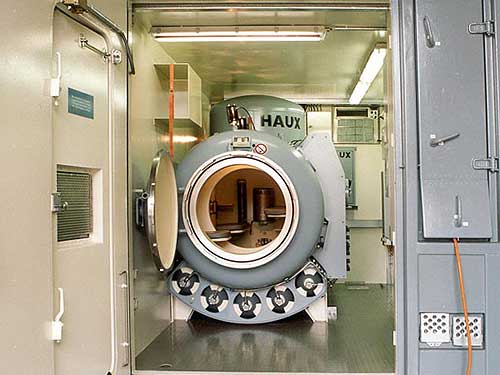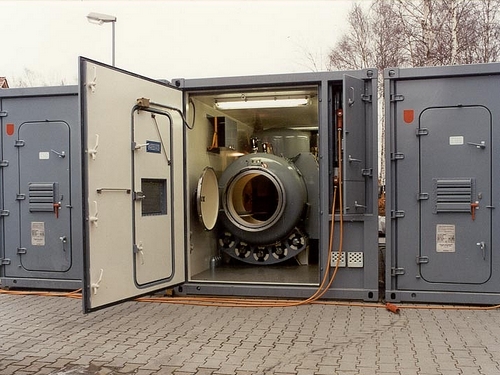 A special chamber version for use on minesweeper ships, the HAUX-SPACE-STAR 1300/5,5 DOME has an extremely low magnetic signature and is constructed of high-strength, seawater-resistant aluminum alloy or stainless steel (Niro). The unique compact design is shock and vibration-proof and offers the highest possible redundancy.
The HAUX-SPACE-STAR is additionally available in a containerized version equipped with accompanying compressor and pressurized gas supply system for offsite use with mobile diving units.
HAUX-ECOSTAR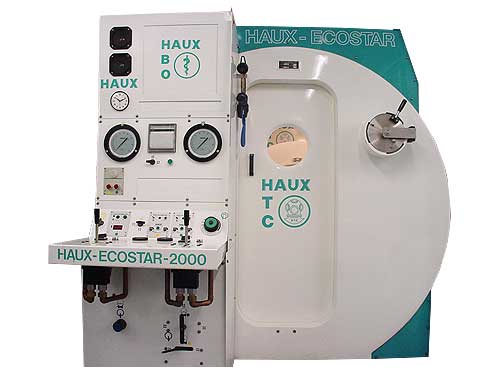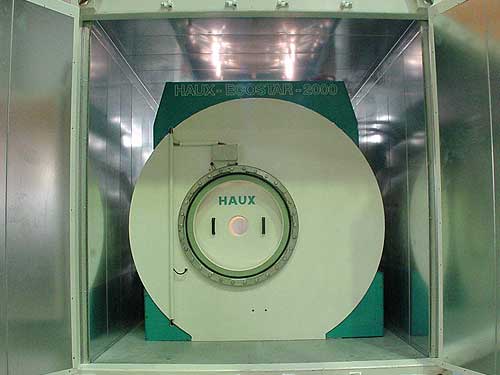 The HAUX-ECOSTAR is a special construction in the HAUX-STARCOM family with an outer diameter of 2000 mm, giving it the unique advantage of an extremely space-saving design in which the 1500 mm diameter antechamber is integrated into the main chamber. With a width of just over 2000 mm and a length of about 2200 mm, it is thus possible to place a complete diver treatment chamber system in a container – with antechamber and main chamber together with compressor and compressed gas supply.
HAUX-MODULSTAR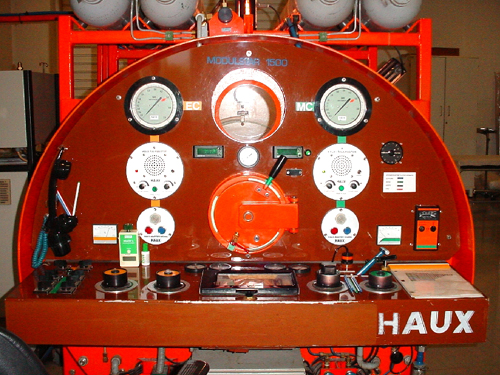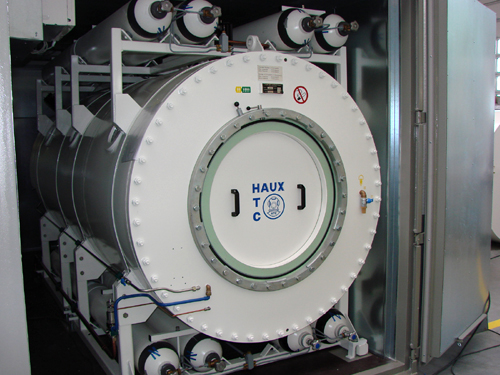 The HAUX-MODULSTAR is a specially designed model in the HAUX-STARCOM series. With its modular construction, this versatile pressure chamber system can be adapted to changing conditions and tasks. For example, it can be employed as either a two or three-room chamber with an integrated locking dome, or has the possibility of connecting to a diving chamber as a modular deep diving system.
The chamber can also be disassembled into individual parts, enabling the HAUX-MODULSTAR to be used without difficulty in cramped quarters such as on a ship.
HAUX-MEDISTAR/MEDILOCK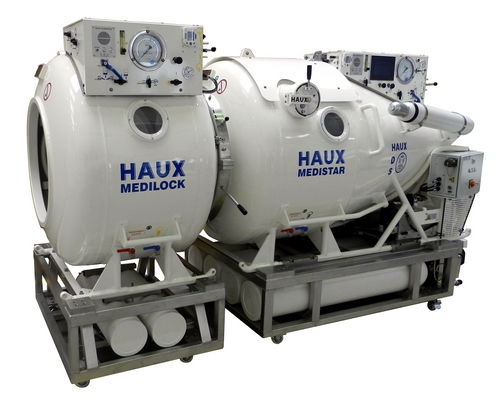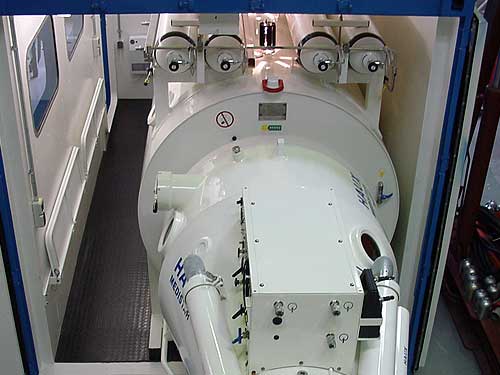 When the transportable two-person diver pressure chamber HAUX-MEDISTAR is supplemented with the lock module HAUX-MEDILOCK, this unit functions as a full-fledged mobile diver treatment pressure chamber system, consisting of a main and antechamber.
This allows a doctor or attendant to be locked-in or out (i.e., transferred) through the lock mechanism without altering the treatment pressure for the injured occupant.
HAUX-MEDICOM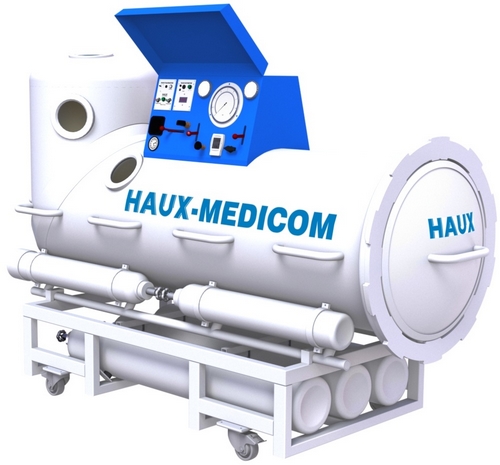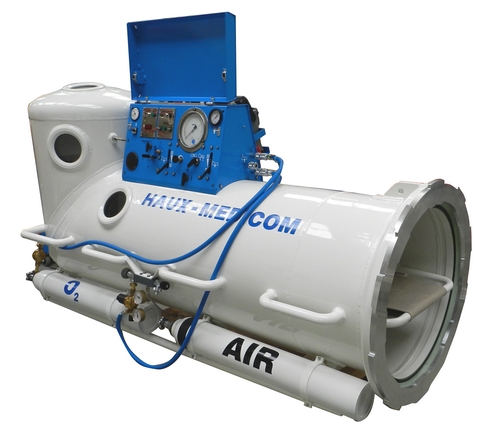 The HAUX-MEDICOM is a transportable two-person-pressure chamber with integrated gas supply for the assisted transport of a diver involved in an accident and an attendant to the nearest diver treatment pressure chamber.
This chamber is equipped with a bayonet flange and has a DIN/NATO standard operation pressure of 5.5 or 8 bar, a compact control panel with precision manometer, intercom system, HAUX-MINISTARVALVE for pressure control, HAUX-VENTMASTER ventilation system, a supply lock, two observation windows and an oxygen breathing system.
Optional extensions: LIFE-SUPPORT system for operation in a half-closed or closed circuit, rechargeable battery pack, lighting, transfer trolley, additional compressed gas supply, computer control system and much more.
HAUX-TRANSSTAR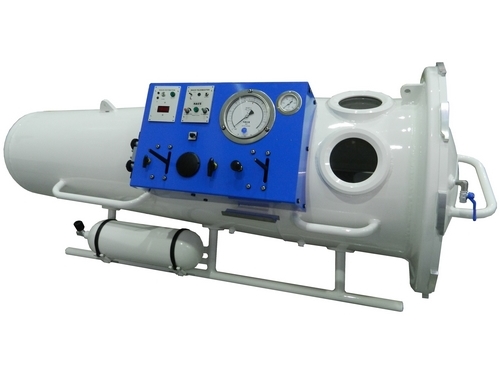 The HAUX-TRANSSTAR transportable one-person pressure chamber comes equipped with a bayonet flange and has a DIN/NATO standard operation pressure of 5.5 or 8 bar.
Other features: compact control panel with precision manometer, intercom, HAUX-MINISTARVALVE, supply lock, two observation windows, integrated compressed breathing air and oxygen storage cylinders.